The Menomonie Lions Club has been putting on the Car on the Ice contest for the past 50+ years.
The project helps the Menomonie Lions Club raise funds to support the community and others in need.
2022 Winners
Car projected to go through the ice April 4-6th after floating instead of sinking. Who knew race cars float???
1st Prize Tim Kerner – $750
2nd Prize Stella Kostuch – $250
3rd Prize Brandon Jack -$100
30 x $25 second chance drawing winners:
Jayme Bowden
Les Kuesel
Patricia Roettger
Shannon Jack
Al Loew
Tiffany Karls
Chris Lund
Dustin Grover
James Meldrum
Lillian McDonough
Gordon Holzhueter
River Dotson
Brekkin Cody
Dennis Spader
Gredabela Gilbert
John Copeland
Ken Mueller
Pat Spletto
Brynlee Gust
Arne Thompson
Zoey Cleveland
Easton Lange
Arden Alexander
Adam Thalacker
Leann Ralph
Robert Macdougall
Jack Gunderson
Josh Secraw
Brooke Bowen
Cindy Quilling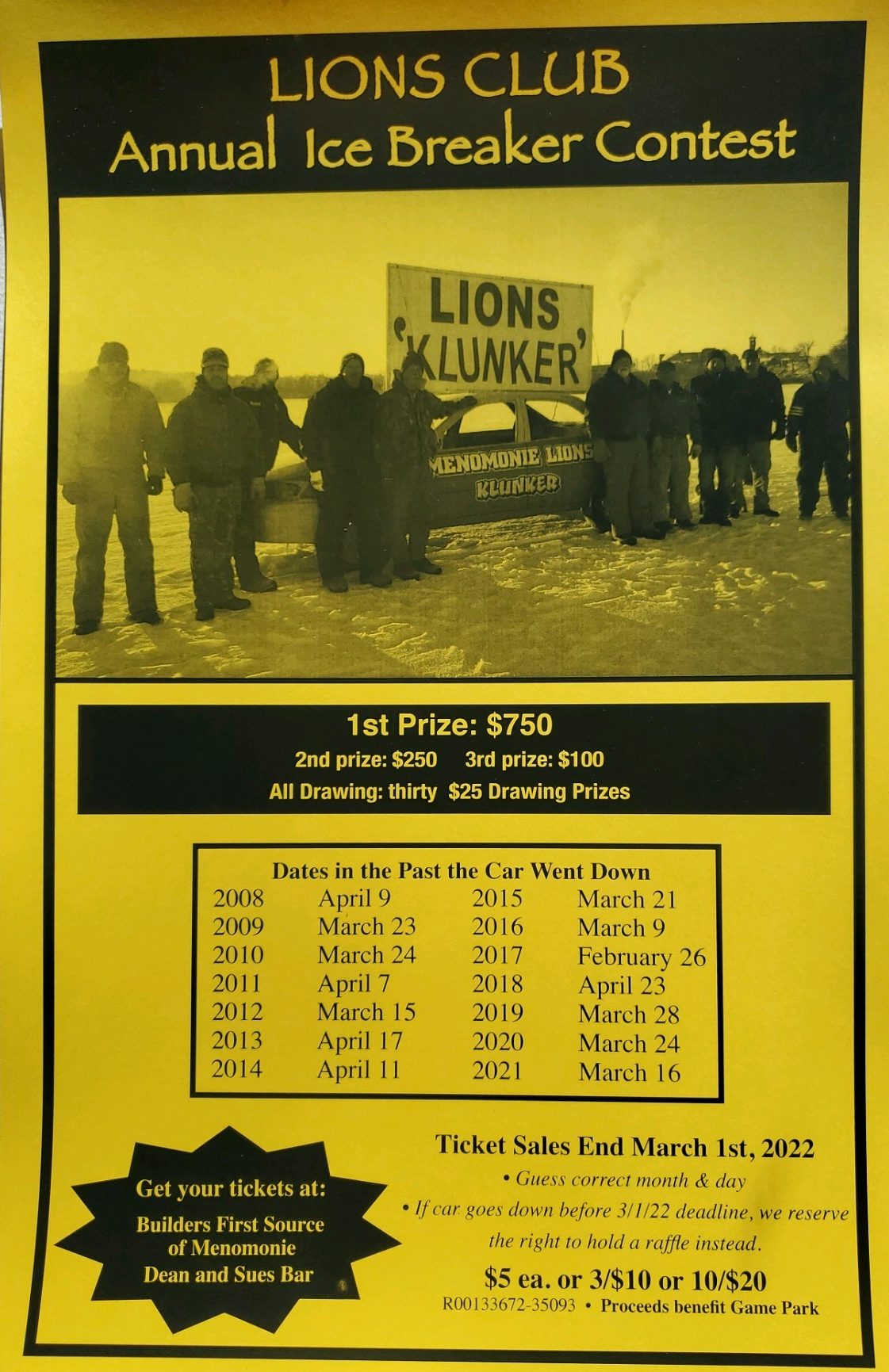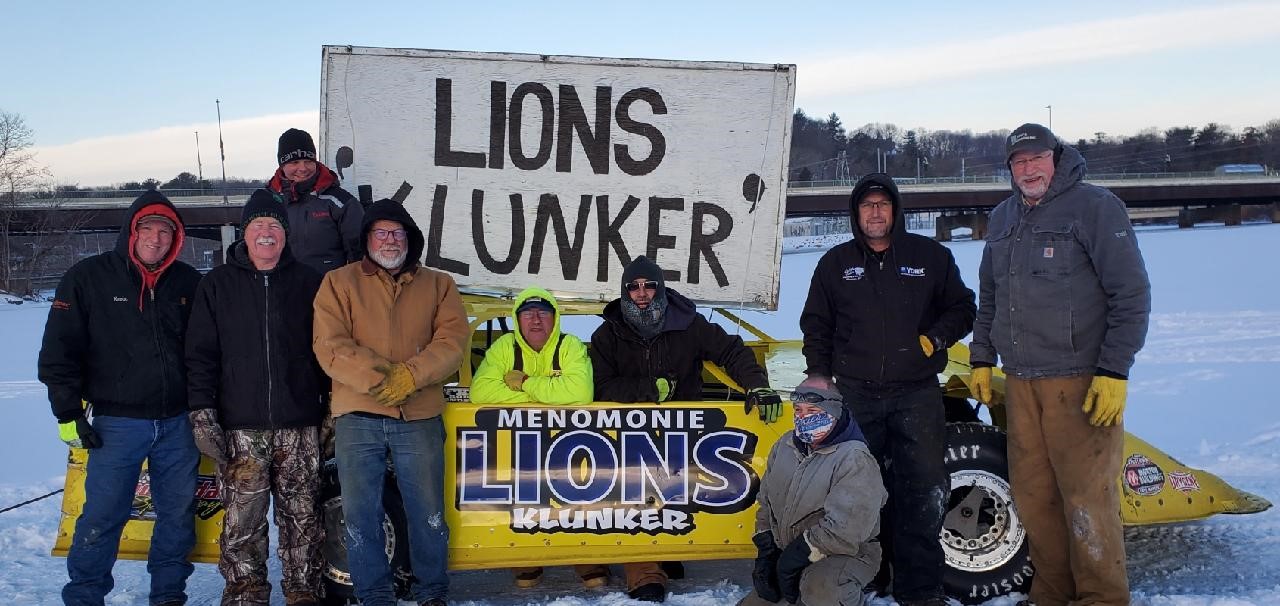 2021 Car on the Ice Winners!
From 3/16/2021 picked date and when car went down
1st Place Harper Dotson $500
2nd place Jaxon Hanke $250
3rd Place Nick Komro $100
4- 4th Place Winners:
Sara Ohman $25
Brian Wold $25
Beth Thompson $25
Rod Brecht $25
30-$25 All Draw Winners:
Alyson Mittlestadt
Mike Cox
Beth Thompson
Judy Karl
Shelly Otto
Curt Graff
Paul Flatland
Diane Kaiser
Bryan Gust
Sylvia Hove
Teagynn England
Danika Smith
Marshall Schaefer
Lisa Hoff
Kari Tarr
Jeremy Spader
Jesse Niggemann
Sophie Garcia
Chris Brummeyer
Matt Greene
Kami Cleveland
Conner Brummeyer
Erin Radle
Susan Vegsund
Matt Sarff
James Hall
Donna Nelson
Clark Yolitz
Mary Lotten
Lori Sinz
Past Winners
2020 Winners:
From 3/24/2020 picked date and when car went down
1st Place – $500 – Dianne Sinz
2nd Place – $250 – Merry Lienau
3rd Place – $100 – Donald Ashbaugh
4th Place – $25 – Steve Rowan
30 – $25 In All Ticket Draw
Hayden
 Karen Olson
Ruth Claire
Kailey Knutson
Viv Jack
Ken Mueller
Dale Bergeson
Marshall Schaefer
Matt Hartman
Braxton Bjork
Michael Benzel
Dusti Mielke
Renee Hartman
Barb Morrison
Julie Schaefer
Craig Johnson
Josh Secraw
Terry Kuester
Dick Henning
Brekkin Cody
Trevor Olson
Jill Kurschner
Addie Larson
Jim Moonen
Darien Shonts
Russell Bahr
Laurie Shafer
Mike Beaupre
Jess Bowker
Kevin Hintzman
Past 10 Years – Dates the car has went through: 
2020 – March 24
2019 – March 28
2018 – April 23
2017 – February 26
2016 – March 9th
2015 – March 21
2014 – April 11
2013 – April 17
2012 – March 15
2011 – April 7
10 More Years of Dates:
2010 – March 24
2009 – March 23
2008 – April 9
2007 – March 23
2006 – April 1
2005 – March 31
2004 – March 29
2003 – March 28
2002 – April 19
2001 – April 9