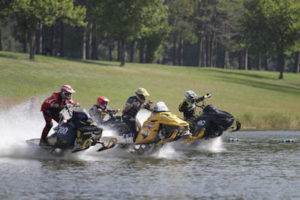 The IWA circuit will be making its inaugural stop in Menomonie WI June 24 and 25th 2017. The Menomonie Lions Club will be hosting the 1st annual Lake Menomin WaterX watercross event at the Wakanda Park beach. Come Join us for an actionb packed weekend and help the Menomonie Lions Club support your community. There will be food and beverage onsite and live music Saturday evening. It is going to be a great weekend!
The International Watercross Association is a member owned and operated nonprofit organization founded in 1988. The mission of the IWA is to provide a safe, uniform environment for the sanctioning and promotion of the sport of Snowmobile Watercross Racing.
The IWA was formed during what most would consider the "adolescence" of the sport. Beginning (for all practical purposes) in the summer of 1977 with the first event held in Grantsburg, WI, the sport grew quickly during the first 10 years. During the World Championship Watercross in 1987, a group of pioneers of the sport put their heads together and decided to form the IWA in an effort to make a uniform set of rules and procedures with which the events could operate for the sake of fair and safe competition. Much of the original format, primarily the brain child of original IWA President Mark Maki, remains intact to this day, 25 years later.
While the times have progressed and technology has grown, the IWA has remained committed to keeping the level of competition consistent, the rules fair for all participants, and to ensuring the safety of all attendees at IWA events.
The IWA has also been an active participant and supporter of International Snowmobile Racing (ISR), a service organization established to provide for the needs of individual clubs and organizations that conduct snowmobile races in an organized and safe manner. ISR has been developed over the past 30 years, working with both racing organizations and Manufacturers to develop technical specifications for safe and fair competition and continues to provide access to the most comprehensive insurance package available; something that is imperative to the interests of both racers and organizers alike. ISR is continually striving to provide the safest venues in all of racing and that is always the top priority of any world class racing organization.
Visit the Lake Menomin WaterX page for More Information
Check out the Menomonie Lions Club Lake Menomin WaterX Facebook Page!